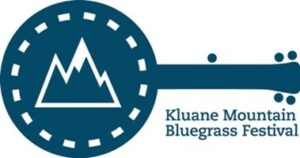 Dear Terence,
We're writing to thank you for Re/MAX's support of the 2022 Kluane Mountain Bluegrass Festival. After a long wait, it was just amazing to experience the magic of live music in the mountains once again.
The bottom line is that without the help of sponsors like you, the festival simply could not happen. Whether it's costs for artists, sound crew, travel, or hospitality, we depend on monetary and in-kind contributions from businesses and donors. Like everyone, our festival has experienced cost increases and logistical challenge as a result of the pandemic.
We're so grateful for your help, especially in these challenging times. Please be assured that we always endeavor to acknowledge your support from our festival stage, on the radio, and on our website, in addition to our festival program. We remind our patrons that you are the lifeblood of our communities, and that you can only support us if they support you.
We hope you'll consider continuing your support in 2023, and we welcome any feedback you might have for us about our sponsorship efforts or any other aspect of the festival.
With deepest gratitude,
The Board of the Yukon Bluegrass Music Society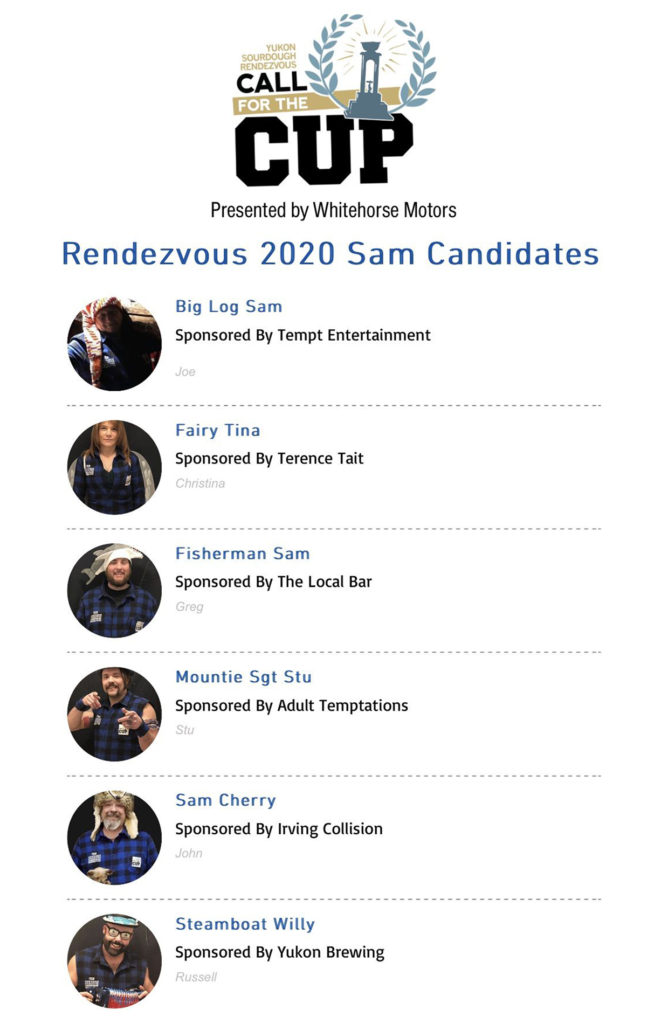 Sourdough Sam – Yukon Sourdough Rendezvous
Every year Yukon Sourdough Rendezvous Society searches far and wide for Yukon's Primo Male. Once the candidates are found there is a series of competitions. These include: Lip Sync, Bare n' Boot, Kielbasa Eating, and Dance Fever competitions.  All these lead to the final Sam Knighting. The Sourdough Sam show not only looks for Yukon's primo male, but all the funds raised at these events go directly to KIDSFEST – ensuring that all kids/family events YSR produce are 100% free of charge to participate in!
For the first time in over a decade, in the spirit of inclusivity, there is a Sourdough Samantha contestant! Terence fully sponsored her participation in 2020, and it proved to be a wonderful advancement for the Yukon Sourdough Rendezvous Festival.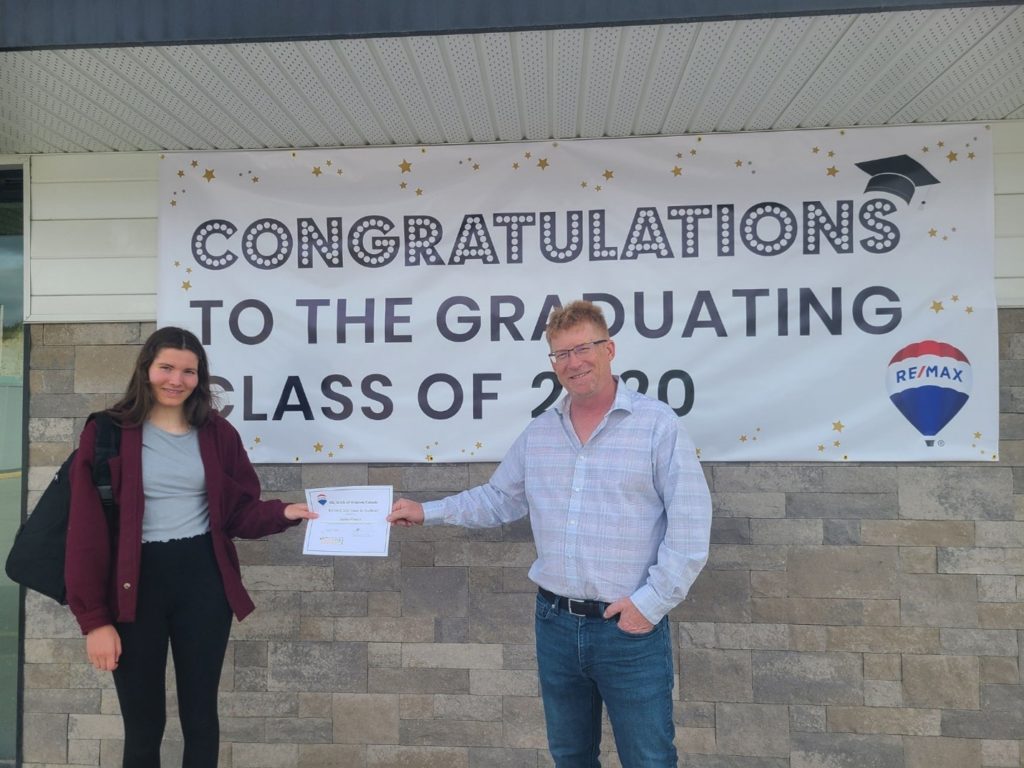 RE/MAX High School Bursary 2019/2020
The Quest for Excellence program is a bursary program for grade 12 students in Western Canada and was established by RE/MAX of Western Canada to recognize the success and ongoing pursuits of students in regards to leadership and community contribution initiatives. Re/Max will award 16 bursaries of $1,000 each to qualifying Grade 12 students, and our staff here in Whitehorse distributed posters and information to all high schools in the city. Students are to convey the contributions they have made to their communities in a short online essay, a maximum of 1,250 words, and the key qualities students should demonstrate are leadership, motivation, and communication skills.  Other attributes may include volunteering, participation in charitable events or fundraising, and contributions that enrich the lives of others and their communities.
Sasha Emery from R.H. Collins Secondary School won the 2019/2020 RE/MAX Quest for Excellence®Bursary in the amount of $1,000.00. Marc Perreault, Co-Owner or RE/MAX Action Realty presents the award and cheque.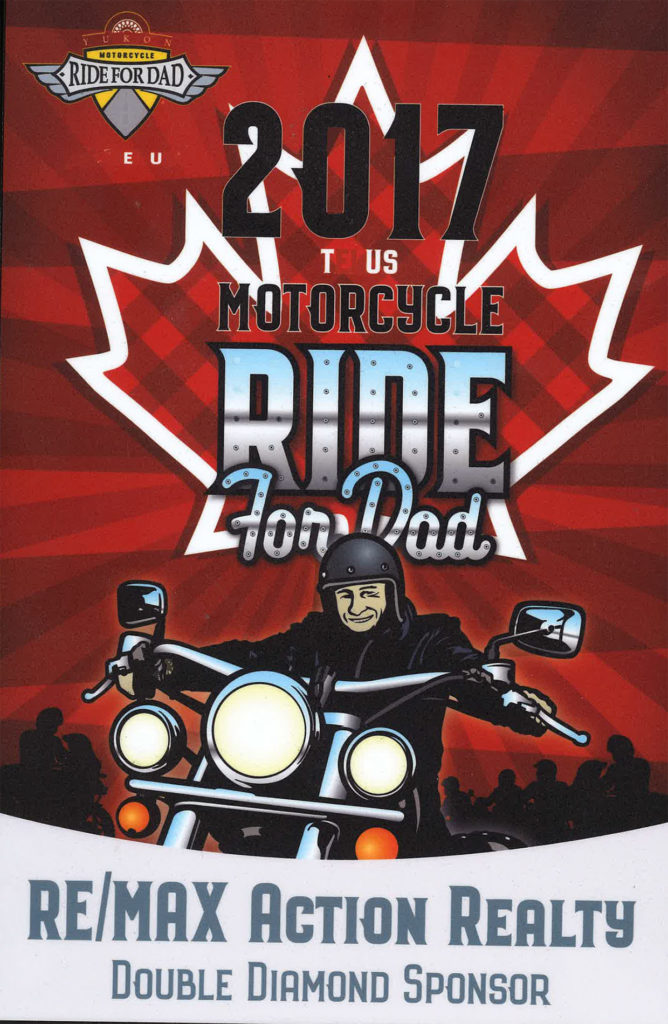 Ride for Dad Yukon
Ride for Dad Yukon started in 2010 and is headed by an all-volunteer committee that raises funds for the fight against prostate cancer. 100% of all funds raised from rider pledges stay in the Yukon
Re/MAX Action Realty has been a proud sponsor of Ride for Dad Yukon Since 2016. First as a Gold sponsor, and currently as a Double Diamond sponsor for 2020, 2021, and 2022. The 7th annual comedy night was a huge success this year, with Re/Max also sponsoring the promotional video created this summer to publicize the cause.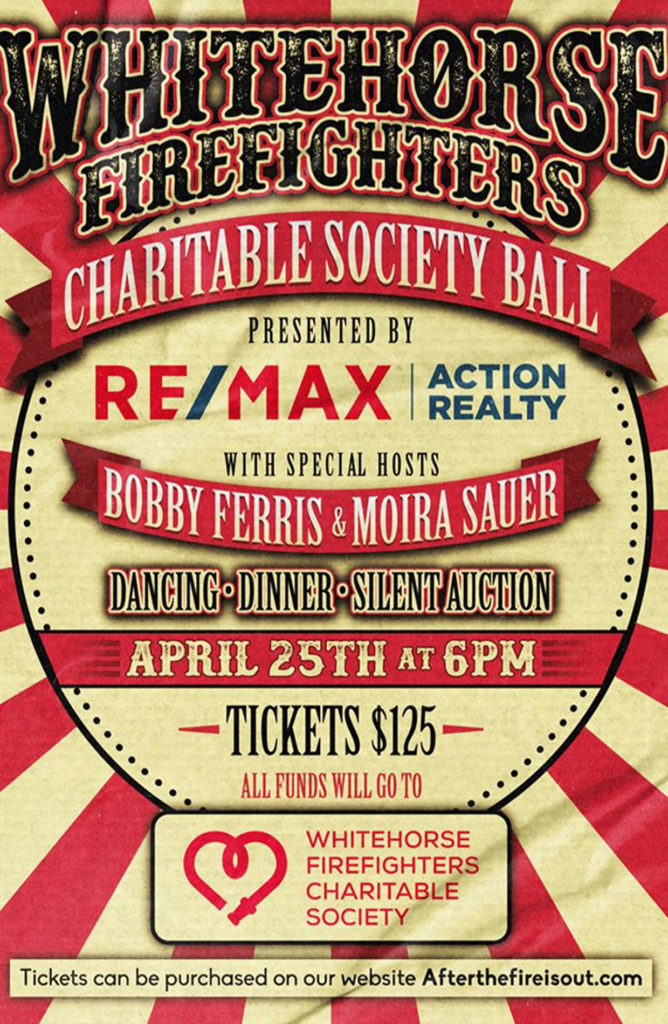 Whitehorse Firefighters Charitable Society
Re/Max Action Realty was the title sponsor for the Whitehorse Firefighters Charitable Society's first annual Spring Gala last year and has signed on to be the title sponsor for the next 2 years as well. Re/Max has also recruited 4 other businesses here in the Yukon to participate as sponsors in a lighter capacity. Funds raised from the Gala each year go directly towards the Share the Spirit initiative, where Yukon families in need are given gifts and food over the holiday season. So far over 455 Yukon Children have been sponsored through funds raised at this event.

Big Brothers and Big Sisters Yukon – Bowl for Kids Sake & Big Squeeze Lemonade Competition
Re/Max Action Realty has supported Big Brothers and Big Sisters Yukon for three years and counting, through events such as Bowl for Kids Sake and the city-wide Big Squeeze lemonade competition. For the last 2 years, we have been the top fundraising team in both, as well as donating in a non-event capacity when necessary. This event allows everyone at Re/Max to not only give back but also to interact directly with members of our community in a fun, competitive way.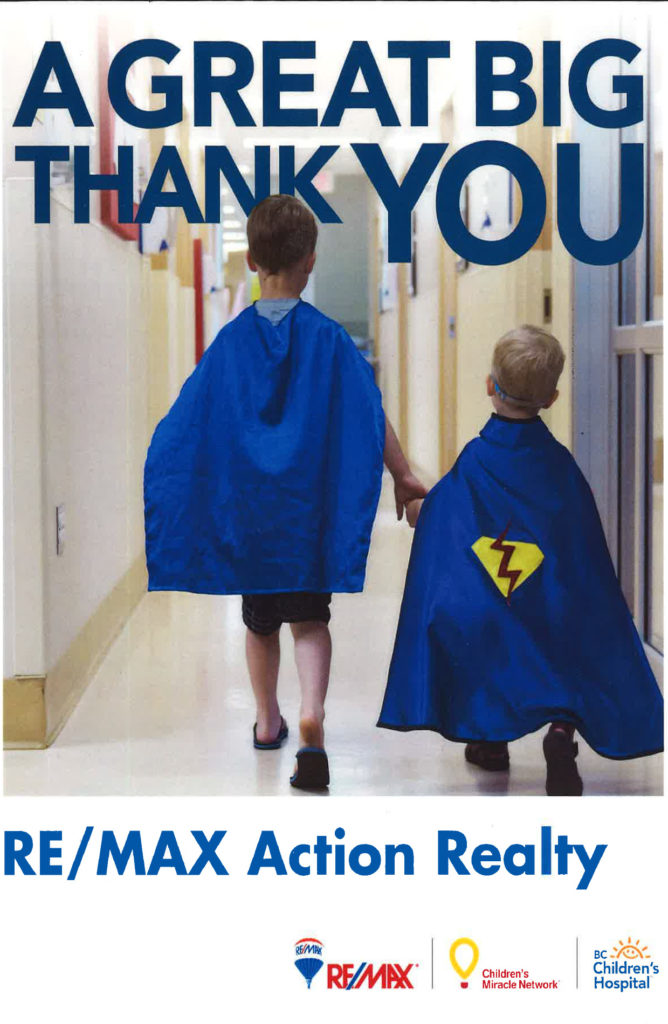 Children's Miracle Network
Re/Max Western Canada and Re/Max Action Realty have teamed up with the Children's Miracle Network to donate money directly from the commission of sales. This program aids children through health care funds, as well as raising awareness through programs that benefit children. With Re/Max's help 2.6 million children receive quality care from children's hospitals across Canada each year.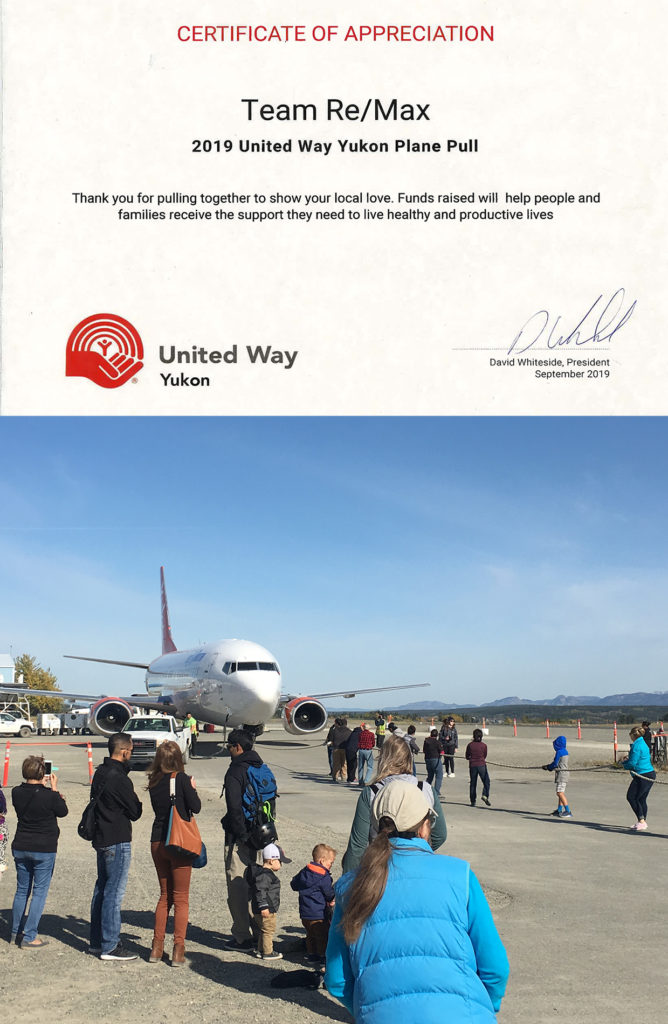 United Way Plane Pull
The United Way aims to engage individuals and mobilize collective action. In 2019 Re/Max Action Realty *pulled* a team together to compete against several other Whitehorse businesses in the great Plane Pull. $12,000 was raised from this event, which was used to support projects that help Yukoners to lead improved lives and build a stronger community, with funded projects such as From Poverty to Possibility and All that Kids Can Be.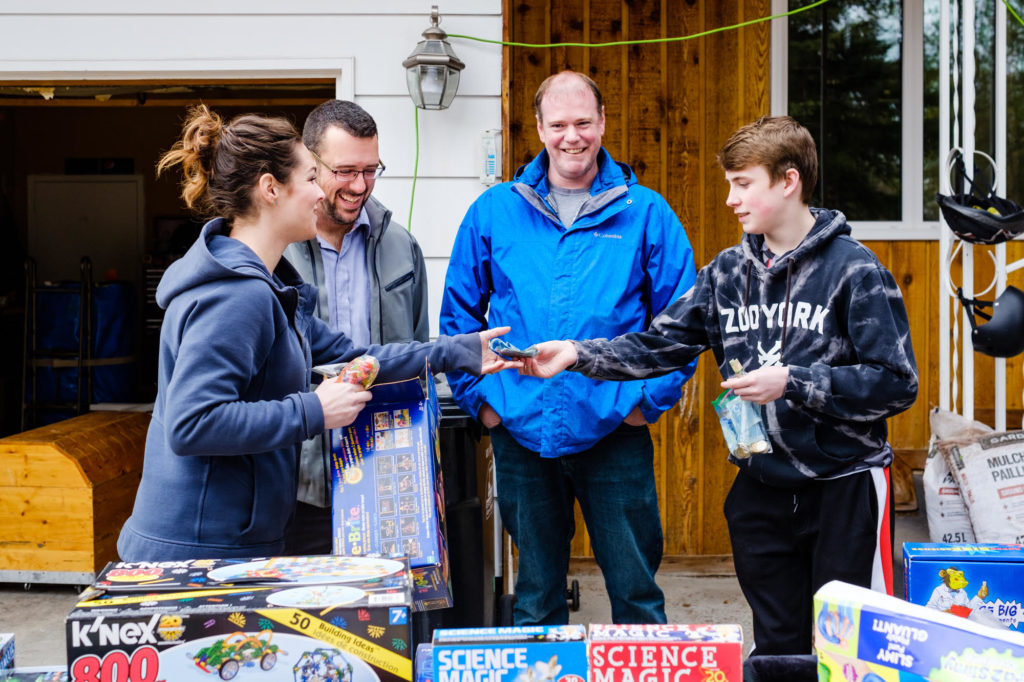 Riverdale Garage Sale Parade
2019 marked the first annual Riverdale Garage Sale Parade sponsored by Terence Tait. 57 homes officially signed up, with 10 more joining in spur-of-the-moment. The event was a wonderful success and brought members of the community together by helping homeowners de-clutter and buyers to find treasures. The second annual parade is already being planned for May of this year.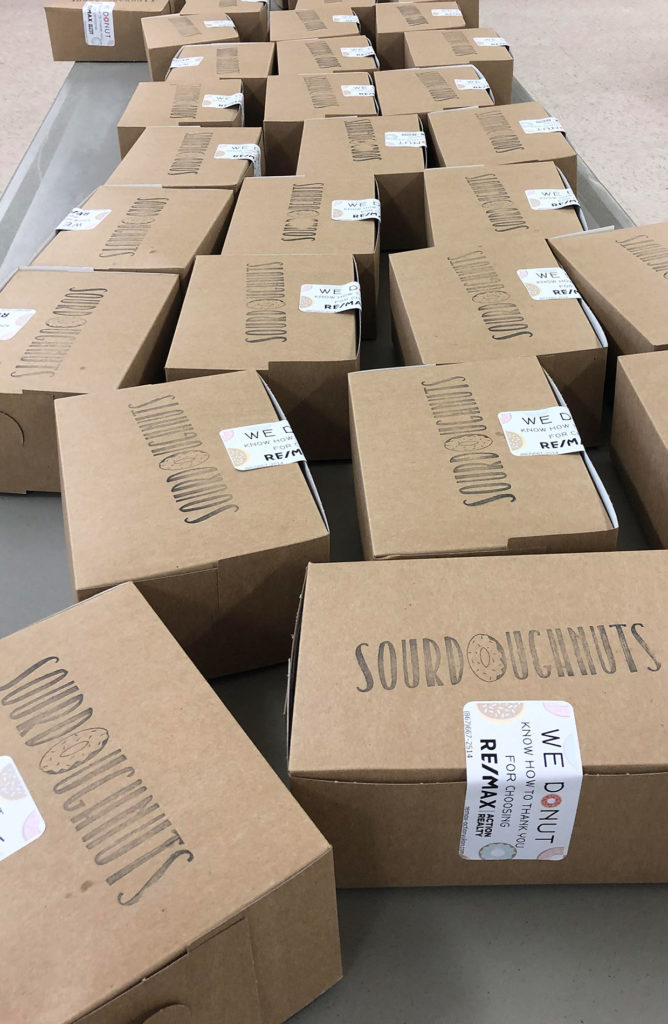 Teaming up with local small businesses – Sourdoughnuts
In early 2020 Re/Max Action Realty teamed up with the locally owned small doughnut pop-up shop here in Whitehorse. Sourdoughnuts created almost 100 boxes of 4 doughnuts for past clients that were personally delivered to by Re/Max staff. The Sourdoughnut ladies tell us that business increased for them in the weeks directly after delivery. In the Yukon we are all about businesses helping small businesses.